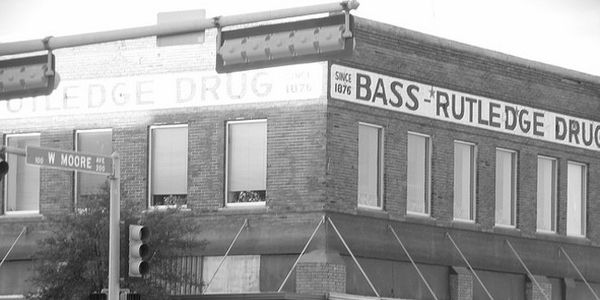 Serving The Community Since 1876
In 1876 brothers, Sidney and John H. Bass opened the Bass Brothers Drug Store in the new town of Terrell. Sydney served as the druggist while his brother John practice medicine in an office in the rear. Thus began a firm that has been in operation on the corner of Moore Avenue and Francis Street for over 140 years.
Sidney and John had built houses side-by-side on Fox Street the year before, planning to make this new town their home. They had moved here from the Sulphur Springs area. Sidney Bass was born near Natchez, Mississippi in 1841. He attended Yale Preparatory School in Connecticut and graduated Centenary College in Louisiana in 1860. During the Civil War he commanded his own company in action at Shiloh, Murfreesboro, Chickamauga, and Missionary Ridge, Lookout Mountain and Atlanta.
The Bass brothers came from a long line of distinguished forebears of the South, tracing their ancestry back through six generations. John Bass married Ruth Alden, daughter of John Alden and Priscilla Mullins, made famous by Longfellow's poem, The Courtship of Myles Standish.
Nine children were born to the marriage of Sidney Bass and Laura Adeline Bridgers. The most well-known of these was Sydney John Bass, born 1861, who married Leda Allen and was a prominent civic leader in Terrell, serving on the Terrell school board, director of the First National Bank, on the Board of Directors of Terrell University School, and a most devoted member and worker in the Methodist Episcopal Church South (now the 1st Methodist Methodist Church). The cornerstone of the church bears his name. He was a supporter of the interurban Railroad in 1911 that would run from Terrell to Dallas.
Two of the children of Sydney J. and Leda Allen Bass, namely Allen and Tucker carried on the family business. Tucker told the tale that the streets were always muddy and he rode his pony cart up Moore Avenue to "show off" and a gun firing from one of the many saloons scared his pony and it crashed into a water trough that was close to the present location of Risinger's Country Store.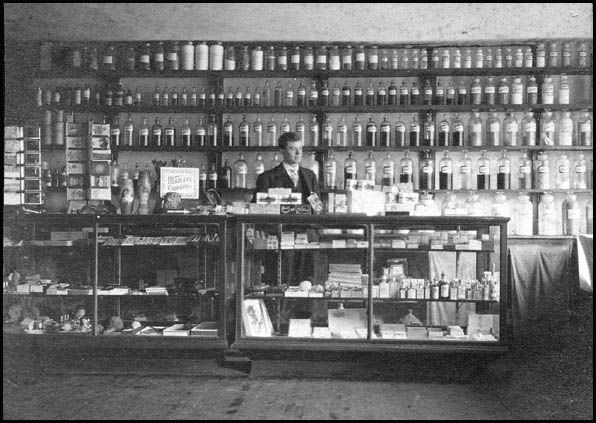 During the 1940s, the soda fountain of Bass Drug with its cherry cokes, banana splits and other "goodies" was a favorite hangout of the teenagers of the town; the cadets of Texas Military College, and during the World War II the cadets from the British Flying Training School. Many a romance was sparked at that fountain.
In 1954, the store had been in the same family for 78 years and was sold to Harold Rutledge, a druggist and owner of Rutledge drugstore (Northwest corner of Moore and Adelaide) and thus the business became Bass – Rutledge Drug.
After 29 years of ownership, Harold sold the business to Ernest Waters in 1983 who subsequently sold to Fred Bentley in 1989. For over 25 years, pharmacist Fred Bentley has dispensed prescribed medication to alleviate the suffering of the temporarily sick and permanently afflicted patients the town of Terrell. Fred sold the business in December 2014 to S&J Pharmacy (Raja & Jessica Salfiti, the current owners), but maintained ownership of this most historic building and continues to do his job as pharmacist for this business that continues to carry the historic name of Bass Rutledge Drug.
(Jean Ann Ables-Flatt, chairman, Terrell Heritage society, genealogist for the Riter C. Hulsey Public Library)
Welcome to Bass Rutledge Drug
Our philosophy and services are well grounded on the core values of client advocacy, efficacy, proper staff training, quality assurance and trust. We know that each customer is unique and we will take the time to consider your preferences and health considerations in order to provide the best pharmacy experience.Walking into our pharmacy you will be greeted by our friendly staff of pharmacists and pharmacy technicians.
Our staff are well educated, and thoroughly trained to address your each and every need. Bass Rutledge is the only independent pharmacy still doing business in Terrell. Now that speaks a lot about our customer service and our customer loyalty.
Raja Salfiti
RPh, University of Toledo
Jessica Salfiti
RPh, University of Toledo